Since it is the wintertime, and because the photo business front is a little slow right now because of the bitter cold, I decided that I would start a series or some special posts that would allow me to share some of my favorite things and so that you all could learn a little more about me.
So this is post one of my
J'adore
series. J'adore is french for "I adore you." I have seen this word pretty much all over, especially in the fashion world. I just love the way it sounds and since I love the word "adore" I thought it would be perfect. In this series I will be posting recent clothing items, accessories, music, movies, etc. that I have been enjoying lately. Basically my favorite things, if you want to use Sound of Music terms. ;) I hope to share a little bit about what inspires me on a everyday basis. So without futher ado some of my favorite things that I J'adore.
Music
- If you want to know the one thing that keeps me sane through editing hundreds of pics from sessions and weddings it is music. I am always on the search for new tunes, especially ones that are nice and simple for when I just need to un-wined and relax. I love tunes that make me feel happy, not ones that make your head throb haha. I found a couple of these on Taylor Swift's playlist--she has such good taste.
Here are some of my recent favs:
Everybody-Ingrid Michaelson
Marry Me- Train (About the sweetest song ever. Makes my heart melt. Haha!)
Wish You Well- Katie Herzig
Flightless Bird- Iron & Wine
Mama's Song-Carrie Underwood
Music Videos-
I also have been loving some music videos that are really inspiring and beautiful. Each of these inspire me so much and I would love to do some photo sessions inspired after them.
King of Anything-Sara Bareillis. I love how colorful and fun this music video. And the polaroids? Love it.


If I Die Young-The Band Perry. I just love how romantic and beautiful this video is. Reminds me of Anne of Green Gables.


Taylor Swift's new music video for her song Back to December. Not only is the song one of my favs, but this music video is so sad yet really lovely. I love the snow at the end.
Flipped
-I watched this movie recently and I just have to say that it is one of the best I have seen in a long time. It isn't a complicated movie with a confusing plot. It is a simple and sweet tale of a boy and a girl growing up in the 60's. You can't but help smile when you watch it.
Headbands

-
The last couple of months I have been obsessed with headbands. I just love how they give shape to your hair, and pretty much if you have a bad hair day a cute hairband is the cure. Haha! You can get headbands for about $2-$6 at forever 21 that are super adorable or a pack of several at Sephora or Ulta. I love wearing the thin headbands for sports and then the more fancy ones for when I dress up or just simply to complete an outfit. I have always wanted a signature clothing item/accessory. Maybe this is it?


My rack of headbands in my room. :)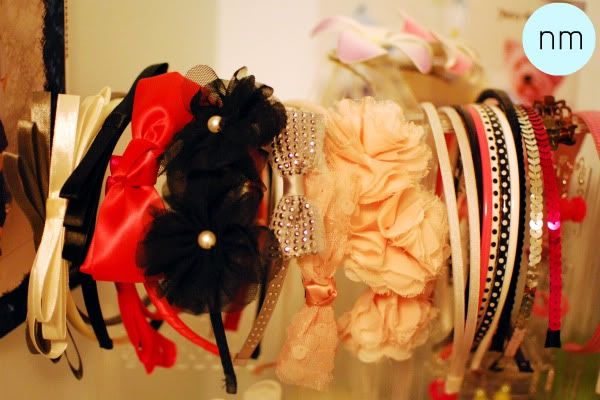 Camera Inspired Jewlery
-What photographer doesn't love jewlery inspired by their passion of photography? From my first camera necklace I got at Urban Outifitters, I have always been on the lookout for photo inspired jewlery.
The newest item to my collection. I found this at forever 21. When I spotted it hidden among the other necklaces I was soo excited. I just had to get it. I love the little bow!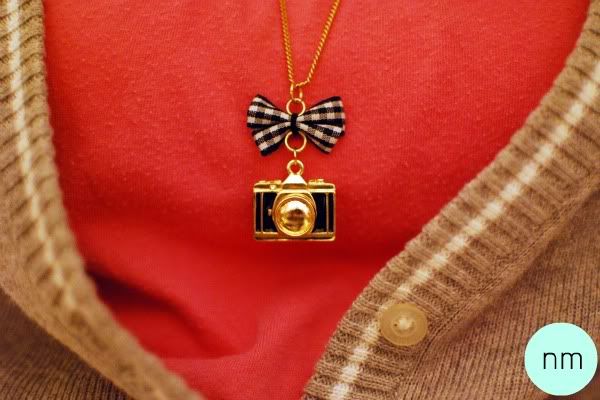 This necklace I have been looking forward to showing you all. My mom got this for me for Christmas and I J'adore it (hehe!). It is from an online company and my mom got this necklace personalized so that it has my brand name (nicole michelle) and then two little hearts with n & m on them. I can't wait to wear this to my sessions.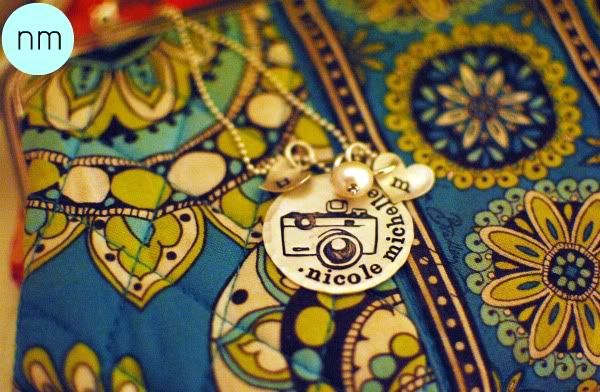 That wraps up my first J'adore post. Let me know what you think! :D
2nd Hawaii wedding coming soon.